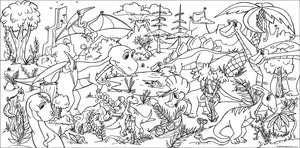 DINOSAURS  60x30 WIDE
Drawn by Guest Artist : Jerry Scianio
These enormous creatures from 66 million years ago are brought back to life in this giant coloring page. Not to worry, in our dinosaur scene you'll find happy versions of these prehistoric beasts playing, gathering food and flying around volcanoes. Kids will enjoy naming and coloring their favorite dinosaurs like daddy long necks, ie: Brachiosaurus, and Parasaurolophus with the funny shaped head.
Look for Triceratops shows off her horns to T-rex and his flying friend the Pterodactyl.
Check out Stegosaurus getting a drink from the prehistoric pond water, Yum!